L'écriture en sciences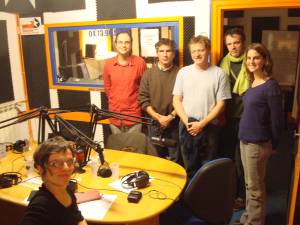 Émission diffusée pour la première fois le 22 octobre 2012 à 19h.
Podcast de l'émission :
Télécharger l'émission au format mp3 ou au format ogg.
Durée: 56 minutes.
Édito
« […] L'écriture des sciences serait-elle […] consubstantielle à la production de la pensée scientifique ? Et partant, quel mode d'écriture est le plus apte à épouser les contours du raisonnement scientifique, à en retranscrire la rigueur et l'exactitude ? Et pour qui les scientifiques écrivent ? Dans quelle langue ? […] » Lire la suite
Résumé
Au fil des discussions avec les invités, nous avons abordé dans cette émission différents sujets liés à l'écriture en sciences, parmi lesquels peut-on faire de la science sans support écrit, en quoi l'écriture est-elle une aide à la didactique, ou encore a-t-on perdu des savoirs passés par manque de traces écrites.
Les invités
Ludovic Morge

est enseignant-chercheur en didactique des sciences physiques dans le laboratoire ACTé de l'université Blaise Pascal.

Frederic Loizeau est enseignant de sciences physiques au lycée Murat à Issoire et intervient également à l'IUFM.
Les interviews
Jérémie Foa

est maître de conférences en histoire moderne à l'Université d'Aix-Marseille, spécialiste des guerres de Religion.
Bonus
En bonus cette semaine, l'interview par Claire des libraires d'Esprit BD au sujet de l'écriture des sciences en bande dessinée.
Fabien d'Esprit Bd présentant une bande dessinée sur Bertrand Russel, logicien anglais. (télécharger

au format mp3

)

Fred d'Esprit BD présentant une bande dessinée sur le 14ème siècle. (télécharger

au format mp3

)
Pour aller plus loin…
Jean-Yves Bosseur, Du son au signe : Histoire de la notation musicale, Paris, Éditions Alternatives, 2005, 143 p.

Michael Friedman, Kant and the Exact Sciences, Harvard University Press, 1992, 357 p.

Le

numéro 33 de la revue ASTER

, dédié aux recherches en didactique des sciences expérimentales, a pour thème la question de l'écriture.
On a aussi parlé de la fondation la main à la pâte, association qui a pour mission de contribuer à améliorer la qualité de l'enseignement de la science et de la technologie à l'école primaire et au collège, école du socle commun où se joue l'égalité des chances.